Alkalime Stick Packs – 30ct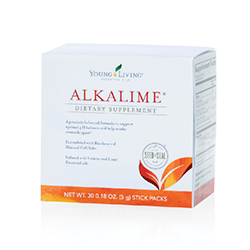 About the Product
AlkaLime™ now comes in convenient single-serve stick packs, so you can enjoy this mild, alkalinizing drink on the go. Keep a few in your purse, backpack, or at the office. The effervescing mix is formulated with Lemon and Lime essential oils, organic lemon powder, and biochemical mineral cell salts to create a crisp and soothing beverage that's gentle on stomachs. Simply empty a packet into 4–6 ounces of cool, pure water, then stir and enjoy. Contains no artificial colors, flavors, or sweeteners. Absorbed easily and quickly by the body Effervescent formula starts working right away to soothe the occasional upset stomach Gentle on the stomach Helps maintain optimal pH in the stomach Free of artificial colors, flavors, or sweeteners, and formulated with nine biochemical mineral cell salts, the refreshing taste of Lemon and Lime essential oils, and organic lemon powder Comes in convenient, single-serve stick packs
Price
Retail: $39.14
Wholesale: $29.75
YL Product #: 3055
How to Use
Empty 1 stick pack into 4–6 ounces of distilled or purified water. Let sit for 20–25 seconds. Gently stir until mixed, then drink immediately. Take 1–3 times daily, 1 hour before meals or bedtime.

Cautions



Mix with water only.
Keep out of reach of children.
Not recommended for sodium-restricted diets.
If you are pregnant, nursing, taking medication, or have a medical condition, consult a health professional prior to use.
Store in a cool, dry place, away from excessive heat and direct sunlight.
Why pay retail?
Save up to 24% with Wholesale Pricing!
Did you know you could save up to a whopping 24% on your purchase by becoming a Young Living Member?
What does it mean to be a member? Well, it doesn't mean you are committing to purchase month after month after month. It doesn't mean you are now a salesperson with a quota. What a membership does mean is that you have the ability to purchase a great set of starter oils and you get to make all future purchases at a great discount! It also means that once you fall in love with Young Living products, like I did, you will have the option to tell others about them AND receive a commission check on their purchases!
Ready to sign up? Need to learn more? Click below! Want to just purchase retail for now? No problem! There's an option for that below too!